December I read an article in Brisbane's Weekend Courier Mail that inspired me to do just that - to publish a novel online; give it away to readers just for the experience. I chose China Wind, a novel I'd written after a holiday with my sister in Hong Kong in January 1994; one that I was then unable to place with a publisher, but that I thought deserved a wider readership than just my immediate family and friends.
My webmaster Mary Brettell and I explored various ways I could blog the novel myself. The online publishing programs on the Net were either far too complicated for me or didn't allow the space I wanted to do the thing properly, severely limiting the amount of words/characters allowed. In frustration I decided, if I couldn't do it the way I really wanted it, I wasn't prepared to compromise.
Mary suggested I do it in Word, convert it to web pages, and publish it on my own website. With infinite patience she took me through the procedure; I mastered this huge and steep learning curve, designed the pages then had a great deal of pleasure illustrating each chapter with pictures that Juliette and I had taken in Hong Kong, revisiting a very happy event from the past.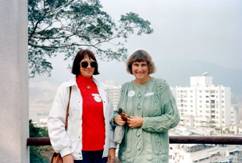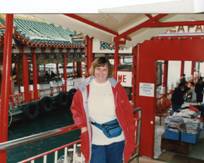 Anne and Juliette in Macau Anne on a junk in Hong Kong
I very much enjoyed writing China Wind and it's still as fresh to me as it was when I created it. I've been delighted by the very positive feedback from readers. Several of you have also asked if I would consider publishing another story online, and I'll think about this later in the year. If you are not already on my email list and would like to receive notice of any new online novels on my page, then use the Contact Anne link on the left hand side and ask me to add you to my online novel list.
Once again, thank you for journeying with me and making this such a happy experience.
Best wishes,
Anne