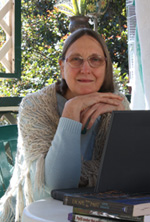 Photo by Mary Brettell
As an author, Anne has had five popular crime novels published by Collins Crime Club. Ulverscroft released three of these in large print and two were serialised in Australian Woman's Day in 1991 and 1993.
Saga Book Publishers released her first mainstream novel, Escape from the Past, in July 1997 and an excerpt appeared in New Idea Magazine.
She has had short stories published in CrimeWriters Queensland anthologies as well as Australian Women's Weekly and Australian Woman's Day. The Queensland Writers Centre published her article Crime Isn't Easy Anymore in their December 1996 newsletter Writing Queensland.
Anne has presented numerous talks and workshops on the elements of crime writing and fiction writing generally to writing groups, libraries and book clubs, including the Queensland Writers Centre.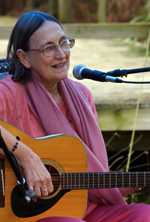 Photo by Denis Roche
As a singer/songwriter, Anne has been performing traditional, contemporary and original music for many years. In the early seventies she ran her own folk club, The Barley Mow, in the late Cecil Hotel in George Street, Brisbane. Anne has performed at national folk festivals in Adelaide, Brisbane, Canberra, Melbourne, New Zealand and Woodford. She has sung on national radio and television, enjoying a regular guest spot on the three series of ABC TV's top-rating 1970s show Around Folk.
Anne has recorded three CDs of her New Age songs - Think Of It This Way, The Four Dragons and Flight - as well as a CD of positive singing affirmations for adults Sing Your Way To Health, Wealth & Happiness, and two CDs of self-esteem and other positive affirmations for children - Special As I Can Be (with accompanying songbook) and Love Is A Circle (CD only). She has also released Seasons and Women Do, two CDs of her original folk songs.
For information about Anne's performances, go to Performances.